THRU 4TH MAR | 10AM - 11:30AM | Have a Brew with EnterprisingYou: Looking forward with Lou Cordwell OBE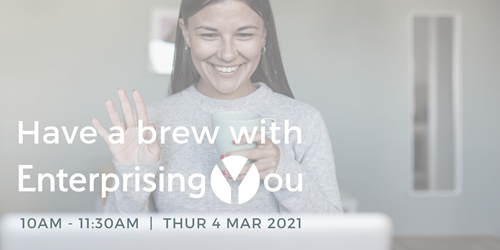 Come along to our monthly women in business coffee mornings.
Each month we'll be chatting about the challenges that self-employed women can relate to, such as confidence, selling yourself and work-life balance.
It's a safe space to get support from other women who are self-employed and will be hosted by our dedicated and experienced EnterprisingYou Business Coaches. So if you're self-employed woman in the Greater Manchester area, come and join the discussion.
This month, we'll be joined by the fantastic Lou Cordwell OBE.
Lou Cordwell is Co-Chair of the Greater Manchester Local Enterprise Partnership, the body which brings together the private and public sectors to support business growth, develop local skills and innovation, direct investment and reform public services.
Lou is also founder and CEO of Manchester-based digital design studio, magneticNorth. Founded in 2000, the company quickly established an international reputation with an award-winning client portfolio. Today, the studio continues to work across a wide range of sectors, from education to placemaking, helping organisations to meet evolving audience needs by putting digital at the heart of their approach.
In addition, Lou is a founding investor in AllBright and a passionate campaigner for gender equality in business and the tech industry. She was awarded an OBE in the 2018 New Year's Honours for services to the creative and digital economy.
Have a Brew... is a FREE online networking event. The session will be conducted via Zoom, joining details will be sent closer to the time. We will send you the access link by email.
This event will be held on Zoom
FRI 5TH MAR | 11AM - 12PM | Social value for small businesses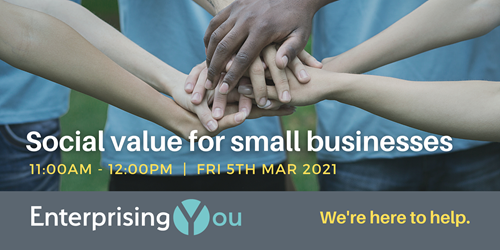 Build back and give back whilst growing your business.
Social value is now a crucial factor in business growth, regardless of the sector, size or shape of your business. Shining a spotlight on projects that aim to do good comes with a range of benefits, not just for you, but also for the wider community.
Not only can social value promises help your business grow, they can also improve your local supply chain, improved branding, staff retention and improve access to grants and promote inclusive growth, not to mention that feel good factor from giving something back.
Come along on the 5th March, where will be joined by the EnterprisingYou team & Gary Millar, Director of Social Enterprise and Investment at GMCVO where you will find out more about how adding social value can transform your business in 2021 and beyond.
Who is this webinar for?
This is a free event and open to anyone in business who would like to find out more about social values. You will also find out more about EnterprisingYou, a free and fully-funded programme aimed at supporting the self-employed in Greater Manchester and more about GMCVO, including how to get involved.
Guest Speakers
Andy Mather: EnterprisingYou Team Leader

Phil Starr: EnterprisingYou Business Coach

Gary Millar: Director of Social Enterprise and Investment at GMCVO
Join us to see how we can support you.
All support available is fully-funded and free to eligible participants.
This event will be held on Microsoft Teams