A Vet, Imposter Syndrome Speaker, Coach and Mentor.  
Katie has spoken on numerous occasions to a whole host of audiences on imposter syndrome, self-value, self-doubt, gratitude and the power of identity. She is a qualified life coach, journal coach and has been certified in mindfulness cognitive behaviour therapy. 
Over the years, she has become increasingly passionate about self-development, motivation, and inspiration for professionals, helping them overcome imposter syndrome and self-doubt. 
Katie currently provides both 1:1 and group coaching programs for veterinary professionals, alongside online courses.  
We decided to catch up with the EnterprisingYou client... 
Tell us about yourself and your business 
My names Katie Ford and I qualified as a veterinary surgeon back in 2012. My own story was that of being a high achieving, high flying vet but internally I very much felt a lack of confidence and a lot of self-doubt, even though on the outside It looked like I had it all sorted.  
I realised a lot of people in my profession and beyond were the same and they too struggled with impostor syndrome and the answer wasn't more qualifications or more letters after your name. 
I trained to be a life coach and speaker and quite quickly I grew a big following. The main four parts of my business are, firstly, public speaking to the veterinary profession and corporate companies, talking about impostor syndrome and strategies to help their teams. 
Secondly, I work one to one with vets, nurses and professionals, helping them as a coach. 
I also do this in a group setting within the veterinary profession, a sector that has traditionally had a lot of mental health struggles.  
Lastly, I wrote and published a series of books. There's a vet version (with a portion of the sales donated to the vet mental health helpline charity, Vet Life), a vet nurse version and a healthcare version (with a portion of the sales being donated to the NHS). I have also just launched a teacher version of the book.  
How did you hear about EnterprisingYou and what brought you here? 
EnterprisingYou was just a Facebook ad that came up and said, 'are you interested and are you from Greater Manchester?'. I think we all have an inner sceptic that tells us this is too good to be true! So, I looked into it and I realised I do fit into this, and it sounds really useful, so I just applied!  
I talked to someone, took the leap and went for it. At the end of the day, I felt like I was supposed to see it.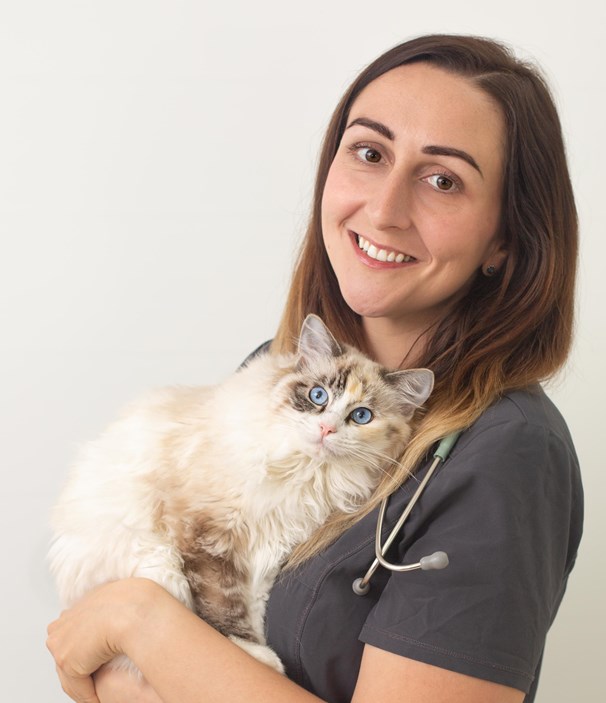 How have EnterprisingYou helped you?  
EnterprisingYou have given me a lot of opportunities. The biggest thing I've done to date is a professional diploma in digital marketing via the London school of digital marketing. I learnt a lot about SEO, about Facebook and google ads, social media, and about optimising my page and my online presence.  
This has massively helped me because with speaking on impostor syndrome, I made lots of SEO tweaks and this has meant that I am now appearing usually on the first page of google when searching imposter syndrome speaker.  
You can search on google and learn yourself but that doesn't compare to having someone there beside you, an expert with you. If you have someone that knows it already and they can impart 15 years of knowledge onto you in days rather than spending 15 years trying to filter through and search through google, that's brilliant.  
How has having a business coach helped? 
My Business Coach, Paul, has helped me in so many ways, encouraging and supporting me all the way. As an entrepreneur, it is very easy to quickly get exhausted, passion does get you so far, but sometimes having someone else on your side is so valuable. He's someone who dares to question and makes you see things differently and actually helps you get to the answers, rather than you heading of down a dead-end path. That support saves you a lot of time and effort. 
When you work in a team, you're used to having loads of people around you all the time to bounce ideas off and draw energy off as you all move forward together. Being an entrepreneur can be very lonely so having a coach helps a lot.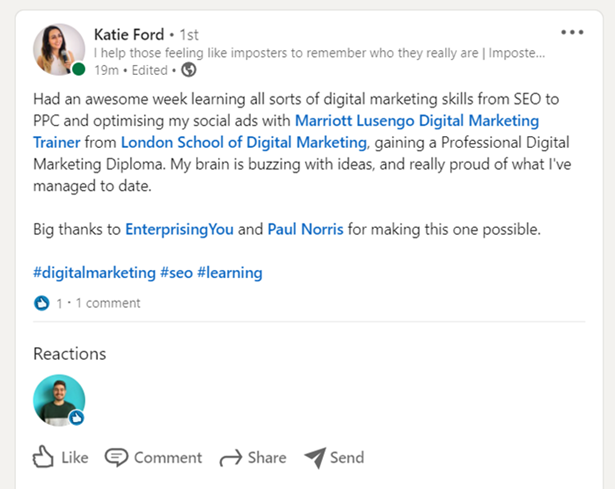 How has the business developed since joining EnterprisingYou? 
Engagement has increased massively. The digital marketing course was bespoke, meaning I was getting direct personal coaching on my own digital presence. I was encouraged to publish more video content, and that has really helped me engagement wise and my book sales have increased as a result!   
What is the best thing about the EnterprisingYou Programme? 
One of the things I've loved about the programme is that the people that help you have been there, done it and got the t shirt. They have a lot of experience and a fantastic list of achievements and things they've done. It's not just another online guru making false claims.  
Paul, my designated business coach, has so much genuine experience and I feel so lucky to have someone like him on my side - and still I don't have to pay anything!  
I am still amazed by the amount of resources you have available to clients for free, there is so much for you to sign up to and use. Whatever industry you're in, there will be something on the platform for you that will either plug a gap that you've been worried about or help skip a lot of steps in your development and save you the worry of having to find it out yourself. There are 270 courses available on the portal! The majority are bespoke, a lot of with one-to-one coaching, that's what really amazed me about the courses. A lot are focused on you and your specific business needs. The name is so right, EnterprisingYou, it is about You!  
What would you say to someone thinking about joining EY programme or thinking about needing advice or help?  
I would say just do it. Take the leap! Whatever doubts you may have will flail in insignificance when you see the benefits you can get. Submit your interest as soon as you can, it's made huge transformations to me in such a short space of time. 
You can find out more about Katie and her business here:  
We provide fully funded support to the self-employed and gig economy workers across Greater Manchester. If you would like to find out more about EnterprisingYou, register online or email info@enterprising-you.co.uk.  
More information about the EnterprisingYou programme can be found here.