In 2011 Dina Mistry left her full-time job as a graphic designer to pursue her own business full-time. Initially designing and creating everything from cards, jewellery and scarves, Dina eventually settled on focusing solely on the greetings card market.
With her newfound direction, Dina rebranded and The Playful Indian was born – a pun-based cards and gifts business. A brand all about putting smiles on faces and spreading happiness, motivating those around us with positive quotes in the form of art prints.
Dina has spent a lot of time developing her brand, creating products and building up awareness to get to where she is now. With support from the EnterprisingYou programme, she has been able to achieve her goals and continues to see her business grow.
We caught up with the graphic design and illustration entrepreneur to hear her story...
Tell us about yourself and your business
I began my entrepreneurial journey when I made the decision to leave my job because I wasn't enjoying it. I was working as a graphic designer and illustrator for a magazine when I noticed a lack of Asian greeting cards, as it was coming up to Diwali.
There were only old-fashioned cards available for people to send at Diwali. This wasn't appealing for young people. So, I thought okay I've got the skills and I can design my own. I setup my business and went about trying to learn the accounts side, marketing and other business-related things I needed to know. I started test trading - cards, ornaments, jewellery, a bit of everything really. Even finger knitting scarves!
I realised quickly the business lacked direction so, two years later, I rebranded to focus mainly on Asian greeting cards and, since then, it has just grown!
How did you hear about EnterprisingYou
I saw an advert posted on social media. I didn't think much of it at the time but thought 'yeah, this sounds interesting' and I applied and thought 'let's just see what happens'.
It was a straightforward process and I met my business coach very soon after. We met for a coffee, had a chat about my business, what I was doing, what stage I was at in my business, what I wanted to achieve from the EnterprisingYou programme and how they could help with that.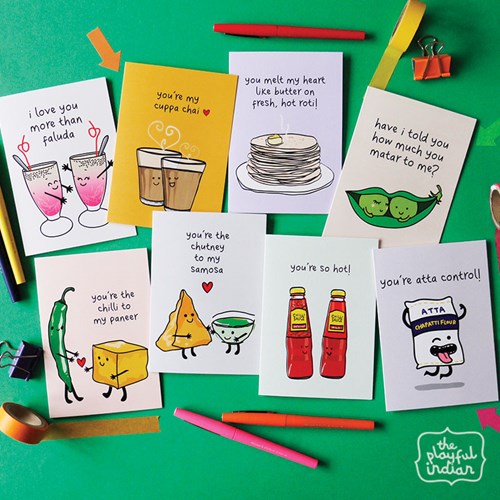 How has the business developed since joining the programme?
I joined the programme and then Covid-19 happened! I did the programme through lockdown, so my course got a little bit extended. Rebecca, my business coach, was lovely and we had our meetings online via Zoom. We had a couple of in person meets just before Covid but via Zoom during lockdown.
The programme has helped me so much, as I am someone who questions myself a lot like 'should I do this?', or 'I'm not sure if this is a good idea', etc. Having a coach to offload on, especially when you're working on your own, really helps to focus you. It's so useful to have that feedback from an outside perspective. Rebecca helped a lot, being that person by my side to help keep me going. You have issues every month and she's seen me through them and seen my business grow. Before I started, I didn't have an office or anything and now I'm able to afford one.
What's different about the business since joining EnterprisingYou
I have an office! A big space too! Double the space that I had when working from home. I've grown in the sense that I've been able to learn from the courses that EnterprisingYou offer. Such as courses with other mentors and specialised ones too, they have all been really valuable. They really helped boost engagement with my social media.
I went on quite a few of the marketing courses. I took away a lot of information from these, and the courses were always tailored to your business depending on what your business needed.
There was always a point of contact too, so you could always discuss further and get extra one to one training. You were always pointed in the right direction too, to the right expert if you were struggling with something specific.
How else did the business grow from the support provided?
It has definitely helped my sales grow. The marketing training and the skills I learnt through the programme has helped so much. I have taken in the information and applied it to my business. It encourages me to organise my work and structure my approach.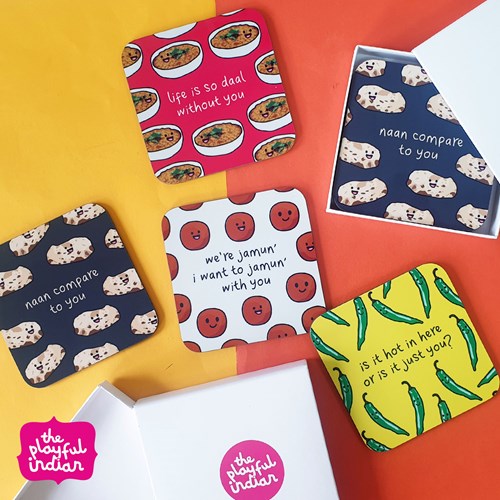 What is the best thing about EnterprisingYou?
The courses and my business coach. Having Rebecca there to guide me through my issues. She helped with product launches, helped me put things into place and put things into perspective.
How EnterprisingYou dealt with the whole Covid situation was fantastic. I was still able to connect with people and business experts and access training. The courses have proven so valuable and just the fact of having a coach there to guide and support you; through whatever issues you're dealing with. Obviously, during Covid was a hard time, especially for businesses. It really helped having Rebecca there for support.
What would you say to someone who is thinking about joining the EnterprisingYou programme?
Just go for it! Don't even hesitate to think about it!
Every business is different, and you just don't know how it can really help until you get onto the programme. Everyone has different needs, and you can get whatever help you require and since it's available for free you should go for it!
If you're working on your own it definitely helps to have that person to help you and be by your side, to help you put things into perspective with decisions you have to make as a business. There are so many fully funded courses and it's such an amazing resource of the programme.
So much for free, so much on offer. It's brilliant!
You can find out more about Dina and her business here: 
We provide fully funded support to the self-employed, freelancers and gig economy workers across Greater Manchester. If you would like to find out more about EnterprisingYou, register online or email info@enterprising-you.co.uk. 
More information about the EnterprisingYou programme can be found here.